Fundraising & Gifts
Thank you so much for this opportunity to help fundraise with your group. A little about us, we are the Farmer and this is 100% our pork. All ground products are made with lean pork, Gluten and MSG free, approximately 1 lb. packages. All products are vacuum packed and flash frozen to ensure freshness when defrosted, (in the fridge or in water). ENJOY!!! If you have any questions about our pork please do not hesitate to contact us.
Thank you and Christmas Gift Packages:
We will customize to your budget and taste. ($50.00 to $300.00 or More).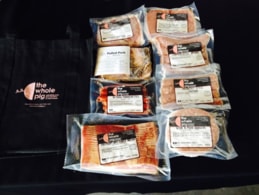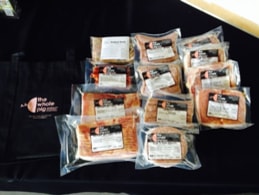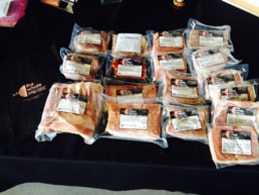 Last year, our packages were very much appreciated and we heard many positive compliments. They included pulled pork, variety of Gluten Free Sausages, Smoked and Unsmoked Chops, Bacon, Peameal Bacon and our ever popular Porkerettes (100% pork Pepperettes).
The pork is all frozen and neatly packed in either a box, ready for a bow or our "The Whole Pig" reusable grocery bag.